Geologic Embodiment and Environs

by MILES MATIS-UZZO

TRIP A. GEOLOGIC FEATURES IN FORT TYRON AND INWOOD HILL PARKS
Independent "A" train to 190th Street station. Stop at exposure of bedrock before ascending stairs to Fort Washington Avenue and Fort Tyron Park.

I might just slip
I might just slip and slide and grind
And gather your matter
Tumbling down
Down
Down
STOP A1. EXPOSURE OF THE MANHATTAN FORMATION

Overlying the Inwood marble and constituting the bulk of the outcrops on Manhattan Island is the youngest formation in New York. This formation is particularly a mica shist. Probably the most characteristic constituent of the Manhattan formation are the course, conspicuous flakes of pearly mica.
My ribs creak like floorboards under the weight of you
Squished between your epidermal layers
We wrestle our mineral bodies
to create monuments
for intangible time
STOP A3. ERRATIC OF PALISADES DIABASE

Carried southward by the Wisconsin continental glacier from the palisades ahead (west), this erratic rests directly on the Manhattan formation below.
I'm bored
Where I lie and lie
Over and over
And you push my head down
Just how I like it
Lower and lower
Where I've been trapped for eons
STOP A4. EXPOSURE OF THE MANHATTAN FORMATION

Feldspar, quartz, and the foliation-producing minerals, muscovite and biotite mica, constitute the major mineral components of this rock. The little red or black spots are garnets, one of the accessory minerals.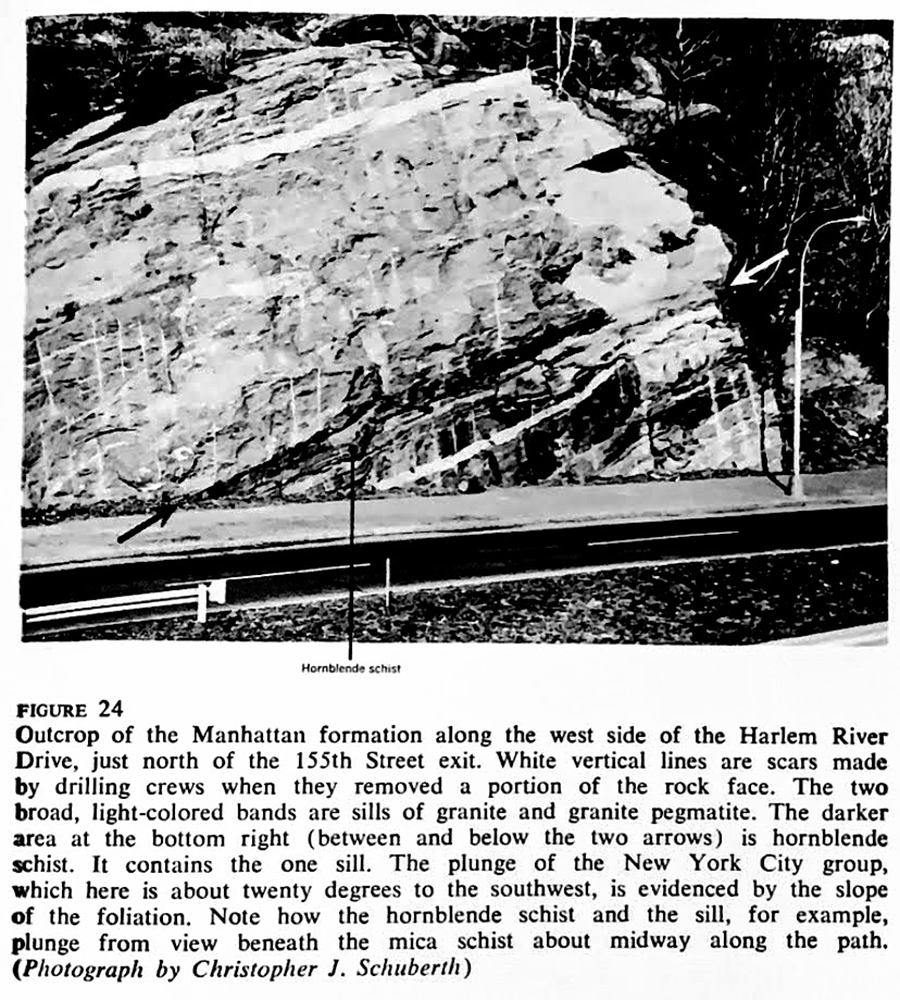 STOP A5. GRANITE DIKE

Note the coarse-textured granite on the outer margins of the dike while the finer-textured granite is found on the inside. You may recall that the texture of the igneous rock is partly dependent upon the rate of cooling–larger-sized minerals form when the liquid cools comparatively slowly.
And a queer sun warms the scars I left
When I tried to scratch to your surface
A chemical mediation now lives
beneath my fingernails
Silly me


STOP A8. EXPOSURE OF INWOOD MARBLE

The principal rock of this formation is dolomitic marble. Dolomitic refers to the presence of the mineral dolomite, chemically a calcium and magnesium carbonate. It occurs commonly in the Inwood formation together with the mineral calcite, a calcium carbonate.
If I were one or the other I would smother myself
Under a lover's molten blanket
And I would ask her
Why I'm not like other dykes?
A foaming liquid intervention.

STOP A12. SUBGLACIAL POTHOLES

The subglacial potholes seen here were formed by an eddy in the waters of the stream flowing beneath the melting ice of the Wisconsin glacier. Pebbles and gravel carried by the water did the actual drilling and grinding of these potholes. Note their position on the steep side of the valley wall.
I'm now climatic,
Morphing with somatic irregularities
Elated, suffocated, and armor-plated
The void pokes at my flesh
to create exit wounds
I will happily lick the haematic holes
to create smooth edges
And prevent embarrassing spills
Of my lobated lava flow.




Experts from The Geology of New York City and Environs by Christopher J. Schuberth